Article: Customize Your High-End Watch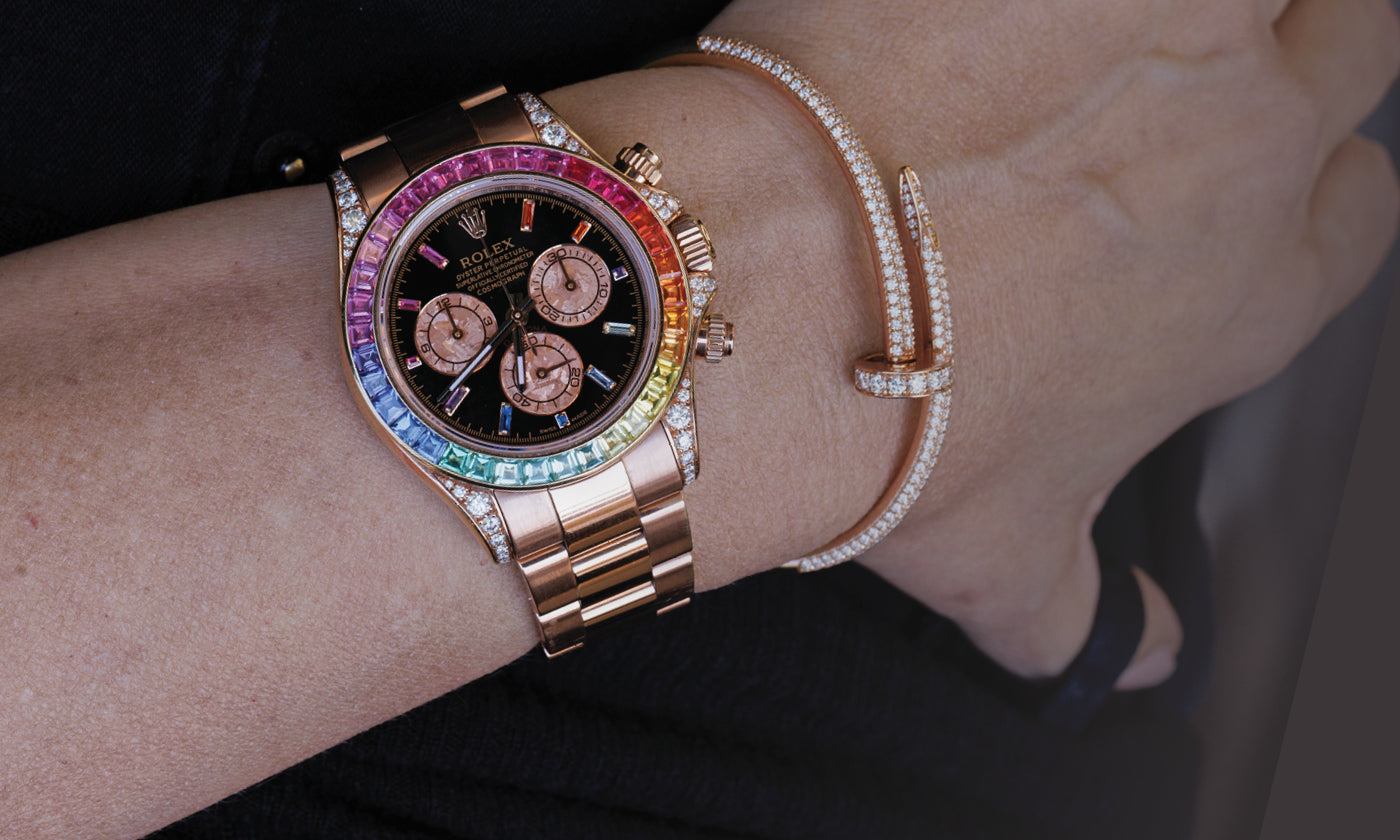 Customize Your High-End Watch
The right watch can say a lot about your character and the image that you project to the world. It can give a sense of style, professionalism, prestige, and status. However, you might want your watch to say something a little more personal about you.
Different Ways You Can Customize Your Luxury Watch
Fit a New Strap
If there's a part of your luxury watch's design that you don't love, then you can always change it. Watches are designed modularly, meaning the strap can typically be removed and replaced. This can be done if your strap is a little worn or simply doesn't match your style. 
Add Some Gemstones
Whether you want the glitter of diamonds or you would prefer the flash of color that other quality gemstones can offer, a lot of people choose to add some additional jewelry appeal to their high-end watches. These gems can be set in the dials, case, bracelet, clasp, bezel, and more.
Personalize Your Dials and Bezels
While the most famous and recognizable aspects of some of the best-known luxury watch brands, like Rolex, might be their faces, that doesn't mean that you can't change them. Aside from adding gems to them, a lot of people will switch out their dials and bezels for different colors, add patterns or prints, or otherwise give them a more unique look. Whether you choose to add a little bling or drastically change the design, it can add some real personality.
Add an Engraving
Perhaps you're looking to give the watch as a gift to someone special, or you want to carry a memory or dedication with you, or even just want to put your name or monogram on your treasured jewelry engraving is an easy way to make a high-end watch feel like it's exclusively designed to be worn by you. You can engrave whatever you want, be it a name, date, phrase, symbol, or otherwise.
Give it a PVD Coating
While originally used to make watches a little more hard-wearing, particularly by those in the military, PVD coating has become a lot more popular for the specific aesthetic that it adds. This sleek, matte black look is added by coating the steel surfaces of a watch in a very thin layer of metal compounds. Aside from adding a cool look, it also does make it more resilient against scratches and bumps.
Customize Your Watch With a Notable Jeweler in Newport Beach, California
For more information on high-end watch customizations don't hesitate to get in touch with our master designers at Winston's Crown Jewelers to make the changes that you want. Contact us or visit us in-store to shop luxury watches, or take advantage of our watch services.