Article: Three Engagement Ring Trends for 2021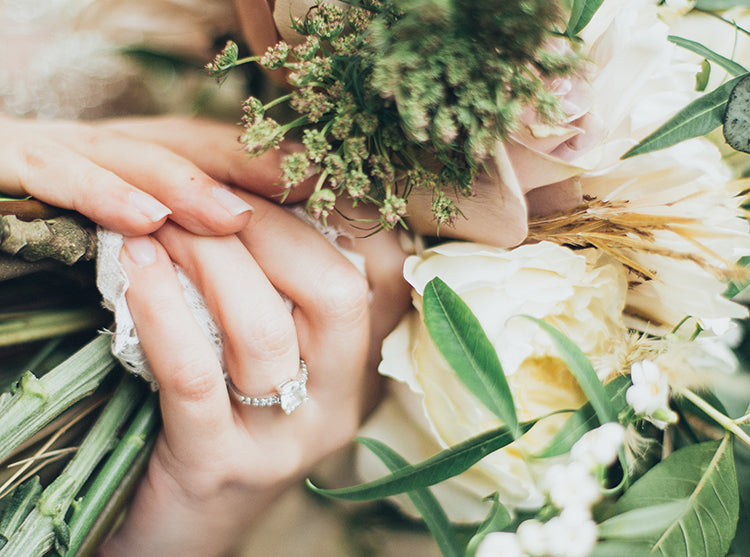 Three Engagement Ring Trends for 2021
Every year brings a new batch of engagement ring and wedding ring trends, and 2021 is no different. Colored stones, classic designs, and layering are all big players for this year. There's a lot of fresh sparkle on the horizon. So if you'd like to drop hints for your betrothed, or you are the one planning to pop the question, here is the rundown on the 'big three' engagement ring trends that will be everywhere in the upcoming months.
If you already have a brand-new engagement ring, be sure to check out our stunning wedding bands which beautifully layer with your engagement ring or can be worn on the other hand.
Three-Stone Engagement Rings
In late 2020 we saw the resurgence of the classic three-stone engagement ring. We expect this trend to continue in 2021. Interesting side stones are in and help to accentuate the center diamond.
This engagement ring trend, also known as the 'trinity ring,' is a chic choice for brides who love an updated-classic style, (think interesting shapes/colored stones/mixed metals) and it's also celeb-approved—Demi Lovato, Miranda Kerr, Jessica Simpson, and Nicky Hilton are just a few famous faces known to wear three-stone engagement rings. Thanks to the symmetry of the design, the side stones will accentuate the star of the show, the center stone.
Blue Engagement Rings
Blue gemstones will be a major trend in 2021. In the past, dark blue stones spiked in popularity after Kate Middleton got engaged to Prince William with Princess Diana's Ceylon sapphire ring, but this year, lighter blue stones will be stepping into the spotlight as well. Blue diamonds, aquamarines, and tourmalines, are a few eye-catching options if you're looking for some color. Blue stones look incredible with both platinum and yellow gold ring settings, and they're a built-in 'something blue' for your wedding.
Minimal, Timeless Engagement Rings
This 2021 engagement ring trend is actually the opposite of trendy—in a good way! Many couples are opting for engagement rings that are reminiscent of simplistic and sophisticated vintage styles, with the goal of achieving a timeless look. This means solitaire engagement ring settings and a resurgence of round diamonds.
Step cuts, such as emerald and Asscher, are beautiful options if you love Art Deco design. As for the brilliant cut, you can think of it as an updated version of diamond styles that were popular in the late 19th and early 20th centuries. All our modern cuts are designed with a high number of facets to achieve major sparkle, but what you choose ultimately depends on what you love. We invite you to come into our Newport Beach flagship showroom to discover your favorites.
What Is The Most Expensive Diamond Cut?
For diamond connoisseurs, the cut of a diamond is the most important factor as it determines how well the stone will interact with light. Perfect workmanship results in a bright and scintillating ...
Read more